Sierra
CFO, (Chief Fun Officer)
Our 3.7 year old female silver standard poodle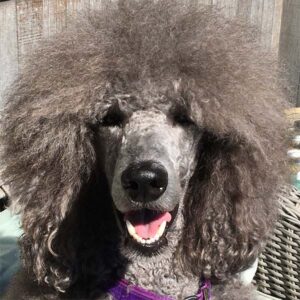 October 1-31, 2022
In October we went on a family road trip with Sierra, John & myself. Our first multi day adventure since we picked up Sierra from the breeder in Utah in May 2019.
The long drive had a stop in St George Utah to visit with Sierra's breeder, Karen, for the first time since we adopted Sierra. Sierra loved seeing Karen!
Then off to Las Vegas for a stop over with Valarie and massages! Onward to the northern California coast where Sierra got to walk on the ocean bluff trails and play on the beach for hours.
There was also time to relax and just listen to the sounds of the ocean rolling onto the beach. The fog was so beautiful as it rolled up the hill through the conifers. I have always thought lovingly of the time I lived at The Sea Ranch and called it home for all these years.
I weigh & measure Sierra once a month, so here are her stats as of October 2022: 14″ collar, girth: 24″, height to shoulder: 25″ weight: 32 lbs. Sierra lost weight on the trip, deciding that she was not hungry. We are working on getting her weight back up.
Sierra Photos: