Sierra
CFO, (Chief Fun Officer)
Our 4.3 year old female silver standard poodle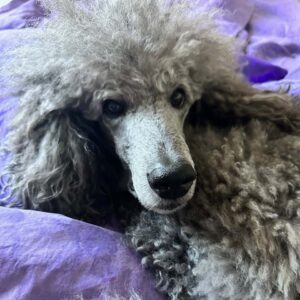 June 1-30-2023
June has been a busy month with real estate activity and lots of driving, on tours and other events. It's been windy and in the low 70's. Warmer weather has reached the 80's in the end of June.
Sierra is learning to catch a frisbee. Watching her learn to pick it up without stepping on it has been very entertaining.
I weigh & measure Sierra once a month, so here are her stats as of June 2023: 14″ collar, girth: 24″, height to shoulder: 25″ weight: 34.5lbs.
Sierra Photos for June 2023: