Sierra
CFO, (Chief Fun Officer)
Our 2.8 year old female silver standard poodle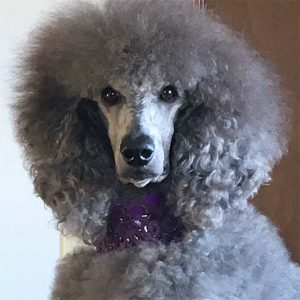 November 1-30 , 2021
Sierra is looking so grown up. How is this possible? It seems like yesterday she was a tiny puppy! You all know that we adore her, as she is the center of our universe.
Sierra has never had much interest in food. She decided she did not like my homemade dog treats that I made monthly for Aeowyn for over 14 years. As a puppy Sierra decided she would no longer eat a raw diet. She started off on a raw diet, which we continued after we adopted her and brought her home. But sometime around 5 months old, she stopped eating and we gave that up. We tried numerous dry kibble and canned foods, even canned tripe that supposedly all dogs love, but not Sierra. Six of the 8 litter mates are larger than Sierra and one other are the same size, even though all weighed about the same before they left our wonderful breeder, Karen Betker Green in Utah.
After trying everything, I tried a food that I used to make for Yogi, our white standard poodle that passed on in 2003. Dr Harvey's is a dry premix that has organic oats, barley, spelt, brown rice, kamut, sweet potatoes, carrots, peas, beets, broccoli etc and many herbs and vitamins. I then cook chicken or ground beef and add it to the Dr Harvey's premix adding a digestive powder & flax seed oil. I make a batch that will last 2-3 days.
This past month of November, we increased her food quantity on the advise of a new vet (even though Sierra has access to kibble any time of day or night). Sierra has a habit of getting up in the middle of the night and going into the kitchen to drink some water and eat some "Fromm" kibble. She eats about 1/2 cup during her nightly kitchen raids. Increasing her "wet" food has stopped Sierra from eating late at night. Plus, in winter Sierra cuddles more, sleeping more closely on our bed with us. However, she now has decided she is not very interested in ANY food. I have tried scrambled eggs, plain cooked chicken (which she used to LOVE), and plain ground beef without the Dr Harvey's premix to no avail. This has been going on for a few days until we added some bacon grease to her food, just to tempt her to eat. We were then forced to eat the actual bacon ourselves for our breakfast. 🙂 Sierra loved the bacon grease added to her food in a late morning brunch. John often pretends to eat her food, in order for her to be enticed to eat. Sometimes she will eat the food out of John's hand, just to please him. So for now, she has started to eat again and we will continue to attempt to get back on the Dr Harvey's with cooked chicken. Sierra has her views on her diet, so we shall keep you informed of she progresses with her food. Sierra is a "stinker", a phrase her breeder lovingly called her.
I weigh & measure Sierra once a month, so here are her stats as of November 30, 2021: 14″ collar, girth: 24″, height to shoulder: 25″ weight: 32.5 lbs (Sierra has lost 2 lbs).
Photos for the Month of November 2021: