Sierra
CFO, (Chief Fun Officer)
Our 2 year old silver standard poodle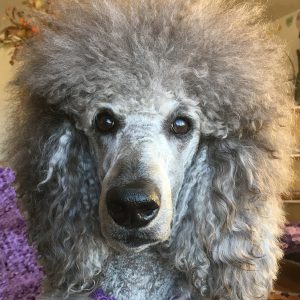 March 1-31, 2021
I weigh & measure Sierra once a month, so here are her stats as of March, 2021: 14″ collar, girth: 24″, height to shoulder: 25″ weight: 34.5 lbs.
March 18, 2021, Sierra turned 2 years old! The time has gone by so quickly that it is hard to believe the puppy has grown into a full size dog! Sierra is sweet, cuddly and as wonderful as ever. She is the center of our universe.
It is equally hard to believe we have all lived through a year of COVID-19. For Sierra, it has meant a year of isolation, no doggy daycare, no doggy classes, no walks in downtown Taos to meet new people. Sierra has been social distancing with John & I, confined to walks around the ranch and playing catch in her yard. When COVID-19 is over and we all can gather in larger groups, Sierra will have to relearn how to socialize with other dogs and people. But in the meantime, we are very content to cuddle and stay cozy. Sierra naps during the day under my desk, "snoopervising" everything I do, as CFO of Kachina Mountain Realty means she has responsibilities that must be fulfilled.
Sierra short video for her 2nd year:
Sierra Photos March 2021