Sierra: April 1-30, 2020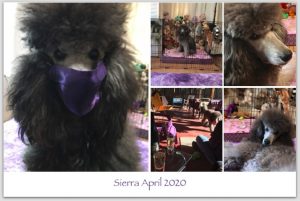 Sierra, our 1 year old silver standard poodle has a job! She has been promoted from iCFO (in-training Chief Fun Officer) to CFO. With her new promotion comes a big responsibility. Sierra will be launching our real estate video promotion featured on our websites and on social media.
Sierra's 1st video explains who she is and her new role at Kachina Mountain Realty. In Sierra's 2nd video she talks about Dianne's role at Kachina Mountain Realty in the era of COVID-19. In Sierra's 3rd video, Sierra talks about selling and buying real estate during the COVID-19 pandemic. In Sierra's 4th video, she talks about the importance of referrals.
I weigh & measure Sierra once a month, so here are her stats as of April 18. She has gained 1 lb, girth grew .5″, collar the same as last month: 14″collar, girth: 22.5″, height to shoulder: 24″ weight: 33lbs.
Sierra April Photos:
Sierra April Video: