Sierra
CFO, (Chief Fun Officer)
Our 4.6 year old female silver standard poodle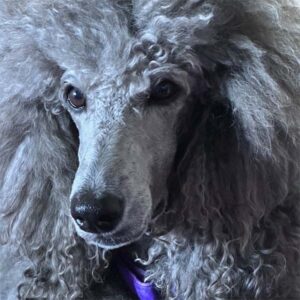 September 1-30, 2023
Sierra has visited 5 new vets in order for her to prepare for breeding this autumn. We have been starting to prepare with exams etc in anticipation of our breeder finding the perfect mate.
On Tuesday September 19, 2023, we drove to Los Lunas for Artificial Insemination. We will know in 30 days if Sierra is pregnant when we do an ultra sound. If Sierra is pregnant, in 50+ days we will do a radiograph to see how many puppies she will possibly have. We are very excited and are hoping for puppy announcement in the November. If she is pregnant, puppies are expected in mid November. We are waiting anxiously for good news! We are planning to keep a silver female puppy.
I weigh & measure Sierra once a month, so here are her stats as of September 2023: 14″ collar, girth: 24″, height to shoulder: 25″ weight: 35.0 lbs.
Sierra Photos for September 2023: