Sierra August 1-31, 2020
Sierra
CFO, (Chief Fun Officer)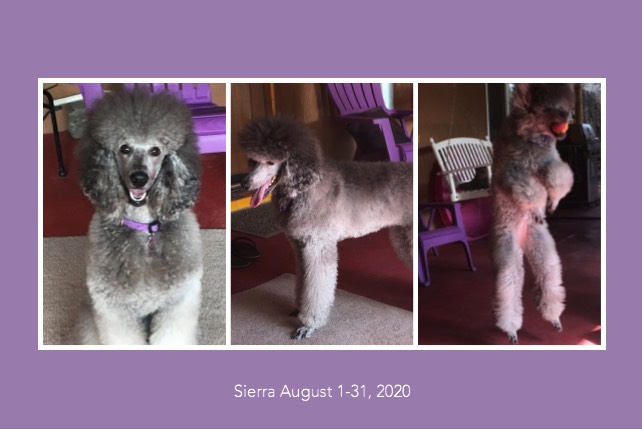 With COVID-19 still raging on, we are all social distancing. which means for Sierra, no dog classes or going down town Taos to practice her socialization skills. We are just starting to work on her service dog training and she had her first experience at walking through Lowe's Home Improvement store with a shopping cart. She was great, a bit nervous of the cart at first, but handled being around the cart with all the noise. She got excited when someone wanted to greet her, so we will work on the jumping up issue at home.
Sierra has been with us now for just over 1 year, 3 months. This past year has gone by so fast and Sierra has changed so much from the tiny 8 week old tiny puppy to now almost a full grown standard poodle. We adore her, as she adds joy, entertainment and love.
I weigh & measure Sierra once a month, so here are her stats as of August 18: 14″ collar, girth: 23″, height to shoulder: 24″ weight: 33lbs.
Summer is has been pleasant this August and Sierra has become obsessed playing catch with her ball and fetching it from her wading pool. She also really loves running through her tunnel.
You really need to watch Sierra's videos as they capture her spirit!
Here is the link to Sierra's Videos »
Sierra's 1st video explains who she is and her new role at Kachina Mountain Realty. In Sierra's 2nd video she talks about Dianne's role at Kachina Mountain Realty in the era of COVID-19. In Sierra's 3rd video, Sierra talks about selling and buying real estate during the COVID-19 pandemic. In Sierra's 4th video, she talks about the importance of referrals.
Sierra's August Slide show: