Sierra: March 1-31, 2020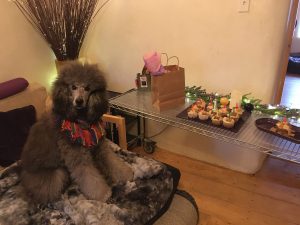 Sierra & her litter mates are 12 months old as of March 18, 2020. We celebrated their birthdays using Zoom Meeting and posted the event on our private Facebook page. The 5 out of 8 guardians had fun being virtually together and sharing our puppies on their birthday. I made "pup cakes" to add to the festivities.
I weigh & measure Sierra once a month, so here are her stats. She has not gained any weight since November 18, and she has not grown taller since last month, same girth & neck as in December: collar: 14″, girth: 22″, height to shoulder: 24″ weight: 32lbs.
Sierra came into heat on March 13, 2020, so she is now a "lady". It has been an adventure, as her eating habits have slowed down, she naps more and is even more cuddly than before. It is hard to believe that a dog can become more affectionate than she was prior, but she now is super-duper cuddly and loves being close to us.
Sierra still does not have much interest in food & is becoming quite the fussy eater. One day she will eat something, the next day not so much. She was on her raw diet from the time we brought her home, but now, she just wants kibble, so Fromm Puppy is what she will eat. It is still a raw diet with grains & veggies. We supplement with Dr. Marty's raw freeze dried. I have tried cooking, chicken, ground beef, adding Dr. Harvey's premix and she eats it once or twice then won't eat it again. From what her litter mate, Birdie, has gone through (Birdie just completed her heat cycle first), Sierra will most likely follow suit and start eating more after her heat cycle has ended, gaining some weight, hopefully.
Now that the COVID-19 has curtailed our activities, the 3 of us are staying at home, enjoying being together. We will get back to socializing, going to "down town Taos" and meeting people, making friends, once our stay-at-home order is over. Since none of us knows how long this will be, we are content to be hermits. Training and ball activity remains the same, just with our immediate household. We will make trips out to the ranch periodically as there are not a lot of people roaming the ranch., making social distancing easy to do.
Sierra brings us so much joy. It is amazing to experience how this 32lb bundle of fluff gives us both an incredible amount of love. We are not practicing social distancing with the 3 of us! Is all cuddle, cuddle, cuddle here in Taos.