July 13 1931 – March 13 2021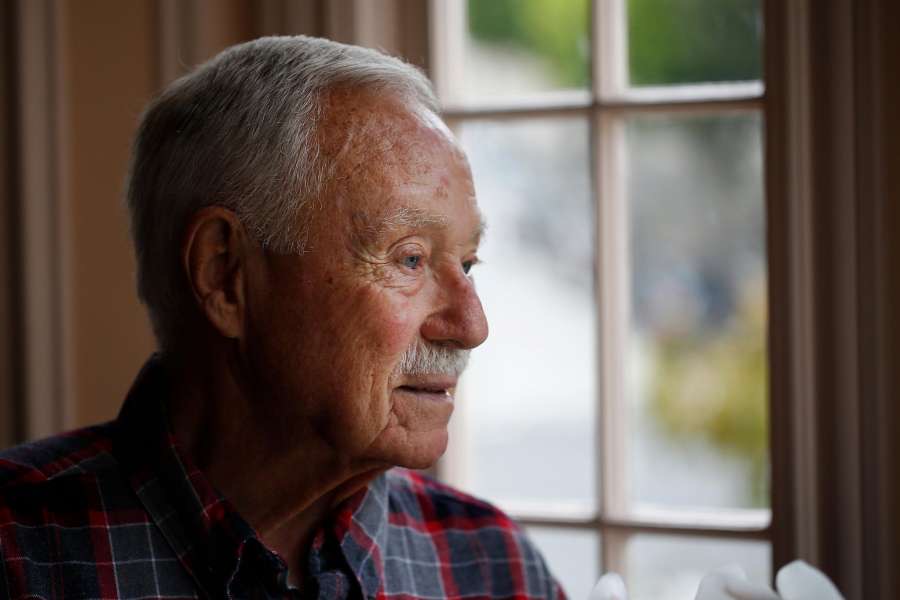 My sweet, loving uncle Douglas took his last breath on Saturday March 13, 2021. Douglas had been in a medical induced coma for 6 days after he experienced a series of heart attacks in which he had several strokes in his brain. His husband, Pancho was with him when he left this earth.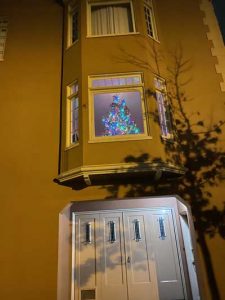 I have know Douglas since 1978. I was first introduced to him at a social gathering at his home in San Francisco at the top of Dolores Park where he lived for over 43 years. I had brought my tapestry portfolio to share with him. As I started to make my introduction about being a weaver of very large tapestries, he interrupted to tell me about the "most amazing tapestry" he seen at an interior design showroom in Palo Alto fairly recently. He described the tapestry in much detail and with much fondness. As he described how this piece had really moved him, I opened my portfolio and showed him my "Forest for the Trees", a 12′ x 8′, 3 dimensional tapestry. Douglas blurted out in amazement, "oh my goodness it is you!". He promised during my visit that we would always be friends and he would "look out for me." In that first gathering Douglas became "my uncle Douglas". This was to be the first of many, many social events at his home.
Gatherings at Douglas's house meant you were in for a gourmet treat and plenty of martinis. There were parties with friends, lovers, Iona (my black standard poodle), aunt Edna & aunt Elsie, Angelo, Jon & Fran, Chuck & Jerry, George and of course, Pancho. There were so many more friends that came to the famous Christmas parties in the first weekend in December, held for several decades. I met some of Douglas's relatives from Sweden and friends from other parts of his busy social sphere. Douglas loved his family and friends.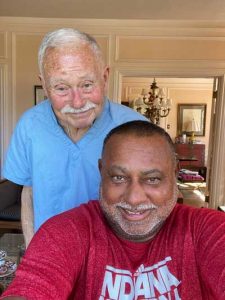 Douglas worked at Keeble & Shuchat Photography store in Palo Alto. Keeble & Schuchat closed in October 2016. I do not know the actual date Douglas fully retired after working there full time, then part time, and finally once a week for many years past retirement age. Douglas managed the frame department where he was beloved by so many customers, employees and the owners.
In the late 90's I became a tenant with John & Yogi where we lived upstairs with a garden terrace. While we only lived there less than a year, we got to spend more time cooking dinners, drinking more martinis than I have ever had in my entire life and just hanging out. I drove Douglas to doctors appointments and out on excursions.
We moved away to Santa Fe, New Mexico in 2004 and kept in touch, calling every few months. Douglas was not a long phone conversationalist, as he preferred to talk in person.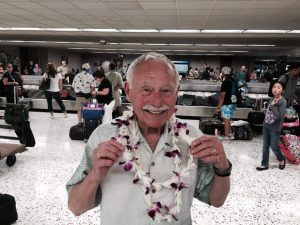 Douglas loved to travel with Pancho, as they had many adventures together. Douglas was always going somewhere and enjoying his travels that Pancho acted as tour director. Douglas would proudly announce, "Pancho is taking me to…" (fill in the blanks). Douglas also loved Pancho's family.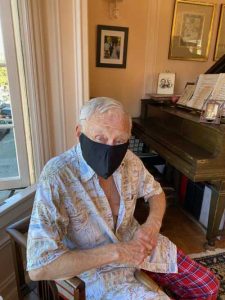 In 2020 with the COVID pandemic, I lost touch for a few months prior, calling, leaving messages etc. I even looked up Douglas's former room mates and close friends on the internet in hopes of reaching Douglas. I had sent Douglas and Pancho some home made face masks and they were returned to me by the post office. As it turns out, Douglas was in poor health, declining over the past few months. Pancho had retired early in order to take care of Douglas full time. I re-sent the face masks after finally reaching out to Pancho via Facebook.
When I finally could connect with Douglas, I realized it was better to send text messages, photos and links to Pancho, who would then share them with Douglas. My plan was to either get Douglas & Pancho to come visit after the pandemic was over in Taos or we would come visit in the next year, when we came to San Francisco. Unfortunately, Douglas suffered several series of strokes brought on by a heart attack and we were not able to talk or visit with him again.
Douglas will be missed by so many people. His kindness and sweet personality is now just a memory that we all share. A chapter has closed and what is left is wonderful memories of a life well lived and a man deeply loved.