In Remembrance – Vickie McKenzie-Cole
June 4, 1942 – October 10, 2021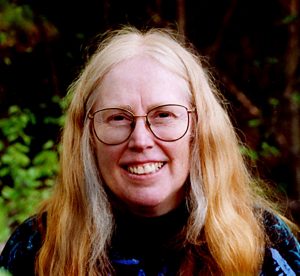 Vickie McKenzie-Cole, a long time Alaskan artist, and the wife of my deceased (July 5, 2019) brother, Dennis McKenzie, passed away unexpectedly in her home in Big Lake, Alaska, on October 10, 2021.
Vickie came to Alaska in 1968. In 1971 she moved to the Matanuska-Susitna Valley, where Vickie and Dennis bought an old homestead.
Vickie began teaching at Mat-Su College in 1973. Remaining fascinated with weaving and with natural fibers, dyes and other materials, she was instrumental in the late '80s in founding a curriculum, still unique to Mat-Su College, that included surface design, woven forms and fiber structures.
Vickie greatly enjoyed sharing her love of pottery, archeology, painting, drawing, weaving, jewelry and so much more. Together, Vickie and Dennis started Birch Grove Studios in 1976. Their studio featured a variety of utilitarian pottery: dishes, bowls, mugs, urns, with some exquisite photography, jewelry and mixed media art as well. Vickie and Dennis taught pottery classes in their Wasilla studio, showing their work in galleries and at arts & craft fairs throughout Alaska.
Vickie, Dennis and son, David, took extended cruising trips in their sailboat from Alaska to Mexico to Hawaii and back to Seward, in the years of 1989 to 1991. In the more recent past, Vickie and Dennis sailed around Prince William Sound during the summers.
Birch Grove Studios is now a three generation, family owned and operated Alaskan studio and is run by David and Mara McKenzie-Cole, who live in Big Lake with their two daughters, Alia and Tayla.
Vickie leaves behind her son David McKenzie-Cole, David's wife Mara, 2 grandchildren Alia & Tyla, sister-in-laws Valarie McKenzie and myself (Dianne McKenzie), brothers Walt & Dick Cole, nephews Steve, Ben & David, Nieces Amy & Christine, nephew Daven Cameron, grand nephew Dieszel Cameron.
Vickie will be greatly missed, but not forgotten.
Some photos of Vickie: