October 20, 1953 – November 11, 2010
Eulogy For Craig
From Craig's Memorial November 2010
Thank you all so very much for gathering here today.
It is so comforting to see so many people here. I do not think I know this many people, so when it is my time, would you mind coming to my memorial?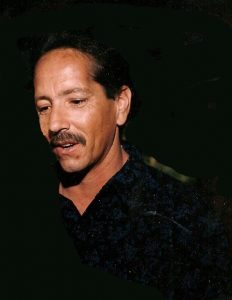 Craig is my younger brother. I want to share with you some background on his childhood and some thoughts I have about life and death.
Valarie, our sister, mentioned just a short time back that us siblings were a major part Craig's life for about 20 years, approximately 36 years ago. While childhood shaped much of our lives, the next 36 years was what Craig's life became. Most of you here knew Craig during those additional 36 years of his adult life.
So here is some information on his past.
Craig was born in San Francisco on October 20, 1953 to Walter McKenzie and Colleen Moody. Our dad was born in San Francisco and our mother was born in New Zealand. Our parents were divorced, are now deceased.
Craig is the 3rd child of four, we were born approximately three years apart, Dennis being the eldest, who has been living in Alaska for over 40 years is a well renowned artist & potter, and my good friend/big brother, then myself Dianne, 3 years older than Craig. I am artist, now living in Santa Fe New Mexico. Then there is our Valarie, our youngest who is a gifted healer, massage therapist and my very best girl friend.
When you look at the pictures of Craig when he was a young child you see his sparkle, his sweet smile and sensitive heart in all his pictures. He was an adorable loving gentle being.
When Valarie our youngest was born, she entered our family with sever asthma and marked the start of 14 years of serious life & death illness issues. Valarie lived in and out of hospitals and oxygen tents for the first 7 years of her life. Craig & Valarie were inseparable during these early years. We have picture showing them holding hands. They did this all the time. They were buddies! Just as Valarie's asthma was lessening, Craig developed a serious blood disease at the age of 9 years old that changed the course of his life. Craig's blood disease affected his health for the rest of his life. Craig's blood disease did not define his adult life, but definitely played a part in his recent death.
Yet despite this difficult start in life, Craig went on to create his life and leaves behind a life well lived, filled with family, loved ones and memories. Kim has been married to Craig for over 27 years. Craig, Kim & their 3 children have formed a very close bond. He is survived by his 4 children, Erik his eldest, Amber, Aaron & Austin, 2 grandchildren, Makayla, & Ayden and Amber's fiancé Kyle & Aaron's fiancé Heather.
When I think about Craig I see him as this little boy, even though many years have gone by. I have always seen his inner sweetness, impishness behind the exterior that Craig showed the world. Perhaps I see him this way because I feel I helped raise Craig & Valarie. Even a surrogate parent that I was, has a hard time letting go of that early bond we had together. Most of you have known Craig as a co-worker, as a friend, as a father and as a husband after he became an adult. I would have liked to known him more in his adult life.
PDF of the complete memorial service »
Some photos of Craig and his family: